Let us send Birthday Parties to your Restaurant
7 OUT OF 10 DINE OUT FOR BIRTHDAYS
they should be dining at your restaurant!

JOIN The Birthday Club!
Get New Birthday Diners: Tap into a goldmine of potential customers with upcoming birthdays near your restaurant. 

In-House Birthday CLUB: Don't let your competitors steal your customers' birthday revenues.

Repeat Business: Achieve year-round success with Restaurant Marketing 365. 

BirthdayS
 Attract new birthday guests and have even more of your current customers celebrating at your restaurant.
increase Avg Check
We focus on covers of 2 - 10 for your restaurant where you sell more apps, drinks, higher menu items, and desserts.
repeat business
Turn guests into raving fans with our automated Thank You, We Miss You, and special occasion marketing.
done for you!
Attract more customers, including new diners for your restaurant. Constantly promote your restaurant.
THE restaurant INDUSTRY'S
#1 BIRTHDAY solution
Let us send Birthday Parties to your Restaurant
GROW YOUR restaurant
WITH BIRTHDAYS.
A complete service to keep your tables full.
* Custom website including customer signup
* Restaurant Marketing 365 
* Customer Analytics
* Done-For-You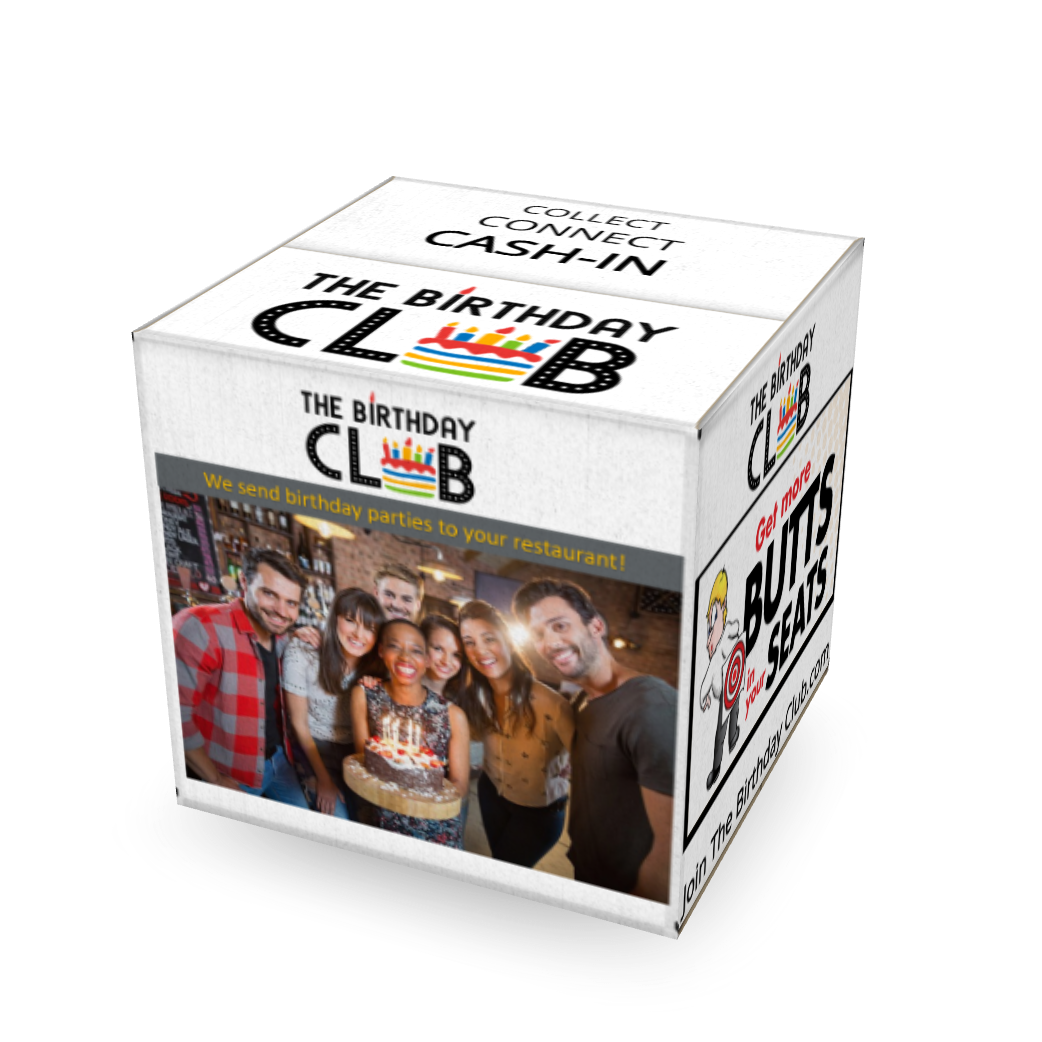 TRUSTED BY HUNDREDS OF RESTAURANTS
YOUR RESTAURANT BECOMES THE PLACE TO CELEBRATE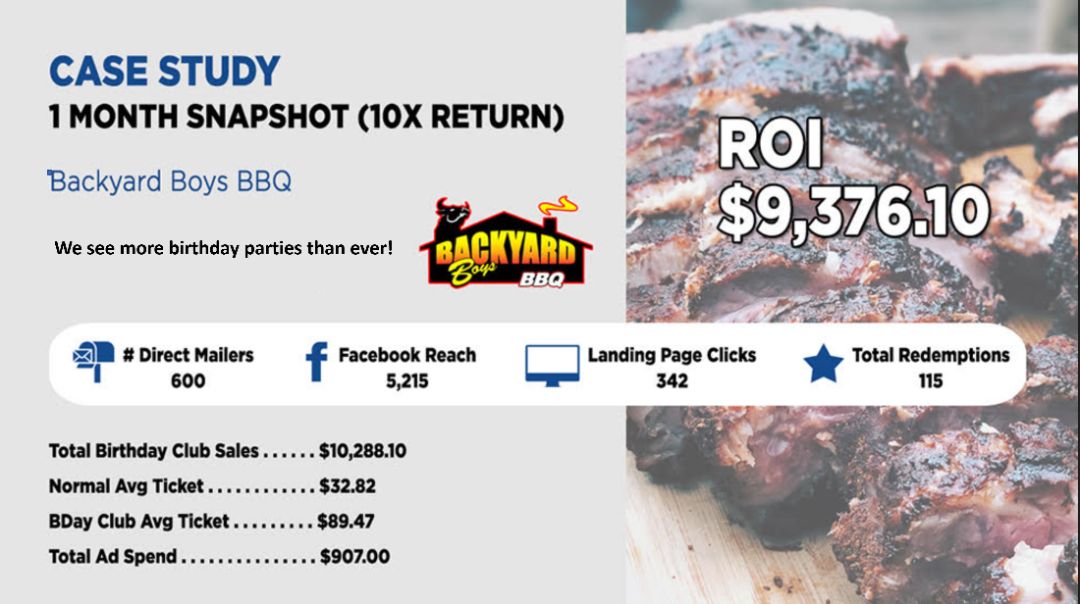 Backyard Boys LOVEs us!
"We're glad we joined The Birthday CLUB, we are seeing more birthday celebrations than ever, we get around 130+ signups a month, and our Facebook interactions and engagement has gone through the roof." Tim, Owner.
Julian's Little Italy gets big results
"At first, I wasn't sure about the Birthday CLUB, but I gave it a try and man what a great service, I now have a wait line 3 -4 days a week and I am constantly seeing new faces in my restaurant. The Birthday CLUB saves me time with the Facebook posts, and I am getting more likes, engagement and customers." Julian, Owner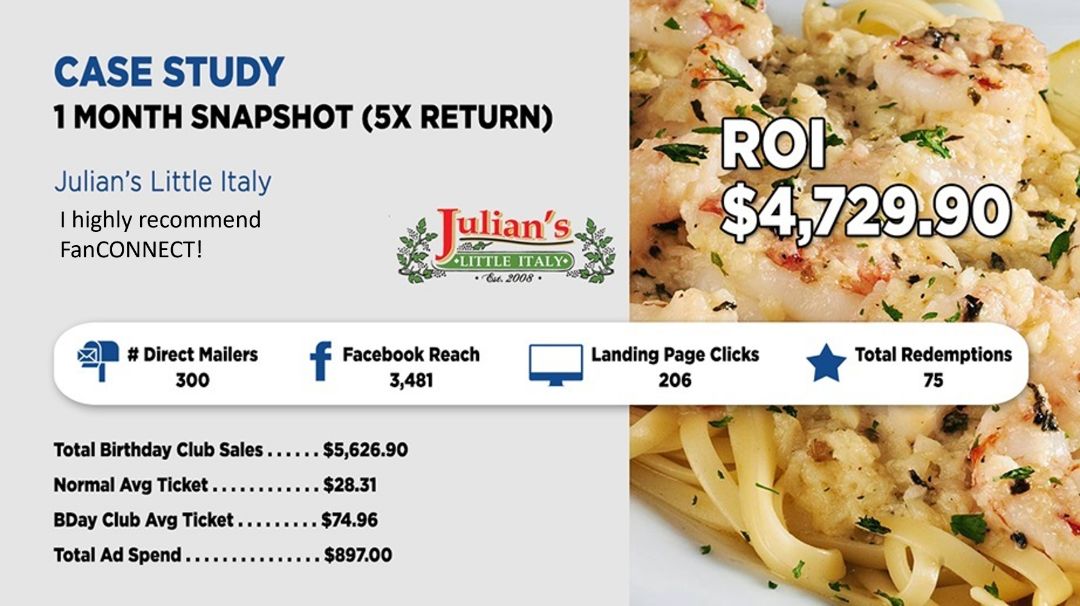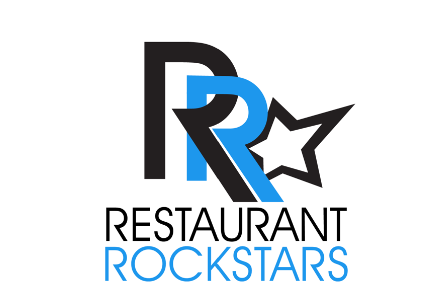 Industry experts agree!
"The Birthday CLUB is Genius! Everyone has a birthday and the majority of people celebrate by dining out. The Birthday CLUB makes it easy and turn-key for your restaurant to capture this audience who also bring friends to share the special occasion. It's all about gaining new and repeat raving fans and filling seats in your restaurant every day of the week!"  
Roger, Owner

.
GET MORE BIRTHDAY GUESTS WITH 40% HIGHER AVERAGE TICKETS
WE SEND THEM.  YOU SERVE THEM
© 2023 All rights reserved.  The Birthday Club™️